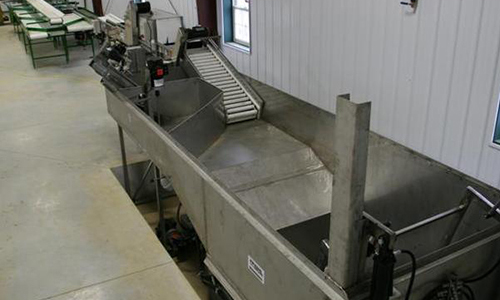 Durand-Wayland announces our new line of Packinghouse equipment for the lower volume packer and/or roadside marketer who need the same type of equipment as the highest volume packer, but in a smaller footprint. The SP Series is perfect for apple, peach, tomato, onion, pepper, squash, red potatoes and cucumber packers that require easy to "use-clean-repair" equipment on a scale that fits their budget.
Developed for the lower volume packers and roadside marketers, Durand-Wayland is proud to introduce the SP Series line of produce packing equipment. This unique offering of competitively priced packing and sorting equipment includes: Bin Dumpers, Water Dump Tanks, Belt Sizers, Chain Sizers, Water Flotation Tanks, 2-way Sorting Belts, Washers, Waxers, Overhead Brushers, Brush Beds, Absorbers (Dryer), Polishing Brushes, Roller Graders, various conveyors for inspection and packing, Rotary Tables, Chlorination Injection System for sanitizing and many other items needed for the seasonal packer.
Why do so many growers/packers buy from Durand? The answer is simple…trust. Millions of pieces of produce are sorted and packed daily across our equipment in packinghouses all over the world. Dependability and durability are hallmarks of Durand equipment and the SP Series line carries this forward with most items available in stainless steel to address ongoing strenuous food safety requirements. Further, the line is expandable and easily incorporated with or added to Durand's existing line of robust, high volume offerings.
One of the key parameters for incorporating the SP Series line to our existing offering is efficient operation and "ease-of-use" designed into every product. And, we include innovative features to ensure that your packing process is done as quickly as possible without compromising the quality of the produce. Developing and manufacturing innovative products to meet the ever-changing demands of our packinghouse customers are a continuous process at Durand. Not only do our evolving technologies help you solve today's problems, they are designed to address your future needs as well…specifically addressing food safety, labor issues and easily replacing wear items.
As a dependable partner for growers/packers, we listen to your needs and encourage your feedback. We then use that information to provide you with just the right amount of equipment and automation you have asked for. The intuitive nature of our products helps you reduce your labor costs. For example, our SP Series line of packing equipment is designed for high performance, yet simple operation…reducing the need for redundant employees. With the SP Series, you spend less time training your employees or worried about downtime and more time driving your business.
Our People Make a Difference
The talented, committed employees of Durand-Wayland share the common vision of making our company the best. Together, we strive for the best in quality, product innovations, technical support and customer service. Check out our website for upcoming trade shows, contacting one of our experienced sales engineers or simply discovering the way to have your best year ever.